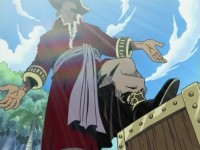 Plunder Propaganda: Notes
Video: One Piece
Audio: MPAA Anti-Piracy Ad
Awards: Manifest 2007 - Best Fun/Trailer
Download page
This video is by my good friend Alan Smithee. He writes:
"Ahoy! Have ye seen those anti-piracy ads? (another version) Don't ye love seein' it on a DVD that ye bought, or at a movie that ye paid fer? It may be important fer good little laddies and lassies t' not download movies, but what about actual fictional pirates? While they're busy stealin' treasure, they're missin' out on quality entertainment! This public service announcement will help 'em out, to be sure! Shiver me timbers!
Although Nami is th' thief o' th' show, th' video focuses on Luffy since he be th' star o' th' show, and better fits th' (male) pirate stereotype. The ornery cuss doesn't actually steal all that much, at least from th' eighty episodes that I looked through, ye scurvy dog!"