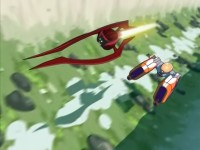 Obanyx: Notes
Video: Oban Star-Racers
Audio: Onyx (CoLD SToRAGE)
Download file
Way back in 2001, I saw a trailer for Molly Star Racer. It looked pretty cool, but I had to wait until 2008 to finally get a DVD release, when it was finally named Oban Star-Racers. (and it only started airing in France in 2006) Although the racing scenes are reminiscent of the pod races in Star Wars, they reminded me of Wipeout.
Although I didn't keep up with the Wipeout franchise much after the third one, I really enjoyed the original game on PlayStation. All of the music on the first game was by a guy who goes by the name "CoLD SToRAGE", and you can actually download it all from his own website here.
I heard he did a track for Wipeout Pure for PSP, and checked it out. I thought it would go well with the show, so made this video in August 2008. At first I thought I'd include footage from several races, but settled on just the races with Toros. The video is actually two races stitched together, with a minor continuity error semi-hidden by the montage of different racer ships.