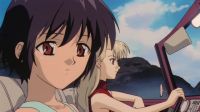 Noir Omake: Notes
Video: Noir
Audio: Akino Arai - Kirei na Kanjou (Pure Emotions - Noir End Theme)
This is a video I did for
ADV
that appears on Volume 7 as an easter egg.
(accessing instructions below)
Four editors were contacted to make videos, and we were only able to use footage from the first five DVDs, and either the OP or ED song. I figured the others would go for the upbeat OP song (two did), so I did a sentimental-ish video to the ED song.
Although it's a sort of straightforward day-in-the-life-ish thing, I had almost 400 files ("mini-VOBs") that I was considering for use. I also wanted to try and be different and have no guns in the video.
To access the video:
Play episode 25
Skip to chapter 4 (a spoileriffic mid-action chapter)
Press LEFT
(pressing the other directions will show you videos by the other editors)
Thanks to ADV & Quu for this opportunity.