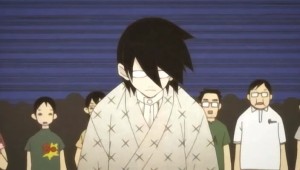 iDespair: Notes
Video: Sayonara Zetsubou Sensei
Audio: I Got No iPhone (Parry Gripp)
Awards: Anime Weekend Atlanta Pro 2009 - Best Comedy
Download page
In the first half of 2009, I really didn't feel like editing, but I like to enter AWA's "Pro" contest every year so I decided to make something. I had started a large multi-anime project, but was getting stressed out looking for decent quality footage that fit, until I came across the webpage of Parry Gripp's music.
I thought this song would go well with Sayonara Zetsubou Sensei. I hadn't seen it, but I knew the main character tries to kill himself from time to time. I found out after I started watching it that another character is a big cell phone user (an understatement), and that was just a bonus. Also, in the second episode of Goku Sayonara Zetsubou Sensei, he is actually in line for an iPhone. (Although I still mistranslated the sign, it says "iPhone: Sold out")
As usual, there are little details in the video for fans of the show and/or iPhone. Enjoy.
The video also received the "Best Product Placement Award" from The Wired Knight.

(Minor spoiler: I know it's not fashionable to use Comic Sans, but the point is that CrappyTel uses a crappy font.
I'm pretty behind the times... I was thinking Apple was still using Garamond, but they now use Myriad Pro)
(Thanks to miruku/spate/godix/gambitt/fall_child42 for previewing/suggestions)