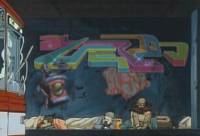 Butterfly: Notes
Video: Various
Audio: Fly Like a Butterfly (Hideaki Naganuma)
Awards: JACON 2003 - Best Action

Download page
When
NME
announced the Jet Set Radio Project, and I noticed that one of the tracks was called "Fly Like a Butterfly", I jumped at the chance to make something that related to my logo. (It doesn't hurt that I like the music)
The project was to use the music in the Jet Set Radio and Jet Set Radio Future medleys. Jet Set Radio is a game for Dreamcast (now GBA as well) where players rollerblade around and spray graffiti. It's cel-shaded and very stylised. A few years later the sequel, Jet Set Radio Future, came out on XBox.
As well as having cool shots of butterfly-related footage, I wanted to relate the video to the games, since I like them. So I also included footage of characters in anime that rollerblade. I didn't have an XBox, so I borrowed one with JSRF, and captured footage for reference.
I replicated a number of effects from the game. I inserted graffiti from the game in several scenes (as seen in the picture above), and made up some of my own. I also recreated the "radio-tuning lines" and Akira motorcycle-like tracers used in the game, and the "speed limit breaking" effect, which I'm told looks like a black lens flare.
One interesting thing during the making of the video... I found a reference to there being a scene of a butterfly in the second Urusei Yatsura movie, but found that it was unusable. While scanning through the movie, however, I found that the characters go rollerblading in it. I was like, "I didn't know that!"
Thanks to
AbsoluteDestiny
for the Kodomo no Omocha footage.