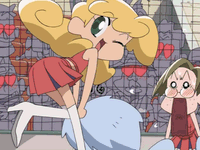 Another Crappy Video: Notes
Video: Various
Audio: Everything Comes Down to Poo (Scrubs S6E06 - "My Musical")
Awards: Anime North 2007 - Creativity Award
Download page
In late 2006 and early 2007 I'd been working on programming for AnimeMusicVideos.org and hadn't had a lot of time to think about a new video. Then I heard that a new episode of Scrubs would be a musical featuring work by the Avenue Q guys. After watching the show, I thought this would be a fun song to use, and I could make some back references to Stop Watching Anime and Go Outside. It was a little tricky finding enough family-friendly scatological scenes.
Some random notes on scenes:

For J.D., I used the doctor from Ogenki Clinic simply because he was used (for one frame) in SWAGO. For Turk, I used Rik Heisenberg (a veterinarian, actually) from Leave it to Piyoko.
The little thing in the "hard or if it's loose" scene was purple and green in the original show.
The bread scene is from "Knights of Ramune". The bread is being smuggled to someone in prison. It amused me greatly.
The bandaged girl, and Gourry as the homeless guy, are more references to SWAGO.
The scene with the tigers is from a Japanese toilet training video. (Toirede Dekitara Pantsuman)
For those that don't know, the rabbit at the end (Mokona) is known for repeating the sound "puu".