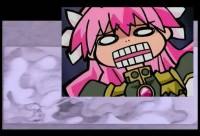 Super Prank! Ichiban: Notes
Video: Various
Audio: Little Fluffy Clouds (Orb)
Download page
Warning! Warning! Very silly! Not responsible for brain cells lost!
This video was created as an intro to a local All-Night Anime event. So there is no "story", it's just a showcase of what was being shown that evening. Until the video goes horribly awry...
Like my track for DDR2, this also uses still images, but not as much.
Note: Having the two staircase scenes one after the other was an interesting accident.